How to Clean the Condenser Unit
11/28/2015
Back To Blog
It's not accidental that condenser unit cleaning or simply checking is required much more often than the other parts of the HVAC unit. The condenser is the outside unit of the system and naturally it gets filthier much faster than the other parts. If this part of the system is filled with debris, dirt will be transferred inside the house too. That's why it's necessary for you to check it often, especially in between seasons.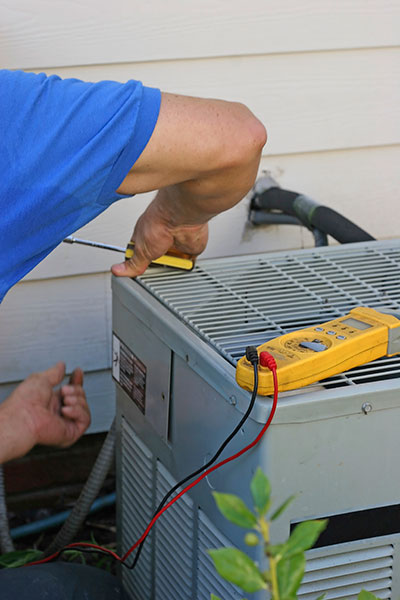 The right cleaning steps for efficient HVAC performance
Before HVAC unit cleaning (even if you are only interested in cleaning or just checking the condenser unit), it's best to turn off the system and pull the plug of the condenser out. The best thing to do first is to check the metallic blades around the condenser. Don't be surprised of how dirty they might be. Apart from being installed out in the open, air sucked through them from the main fan also sucks tree leaves, grass and other elements. Such debris must be thoroughly cleaned since it will block airflow and the unit won't work efficiently.
The next step is to check and clean the cooling fins, which might be placed under a cover. Since they are very sensitive, they must be cleaned very carefully and with the use of a soft brush. Don't put any pressure or you might bend them. If they are already bent, the nature of the HVAC unit repair will depend on the extent of the problem. If the fins cannot be straightened with the help of a tool, you might have to replace them. In order for you to gain access to the internal parts of the condenser unit, you must unscrew and lift the fan in order to remove debris underneath. Depending on how old the unit is and the model you might need to lubricate the compressor and the motor.
What's important during this task is not only to remove debris but also to check that there aren't any broken or rusty parts. When you turn the system on again, it must be working better. If it isn't and you have cleaned the internal parts of the HVAC unit, there might be need for air duct cleaning as well. All these systems are connected and that's why they must all be checked and cleaned regularly. If the system still doesn't work as efficiently as it should, there might be duct leakage and you will have to check the joined duct parts in order to have the right air duct repair work done. The combination of proper repairs and cleaning always brings better results not only to the efficiency of the cooling and heating system, but also to your health.