HVAC Unit Cleaning
Back To Our Services
You HVAC unit sits outside and as a result collects all of the contaminants that are in the air it is drawing in. These contaminants get trapped and build up over time, and can cause issues. Cleanings and maintenance are important but it is even more important to have it done by someone with experience, which is where our company can help!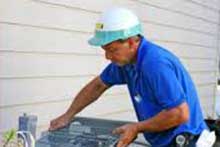 Expert HVAC Unit Cleaning
When unwanted dirt and contaminants get left for too long in your HVAC unit it can cause all sorts of problems. It will lower the longevity of your unit, make your indoor air unhealthy to breath, and cause it to run harder just to name a few. The good thing is you don't need to worry about any of this because our team of professionals will come clean it for you with the right tools and experience so you don't have to stress about it!
HVAC Unit Troubleshooting
Sometimes problems may arise that you aren't quite sure what they may be. Our team is here to assist you and will perform the necessary inspection and testing to figure out the problem with your HVAC unit and get it fixed for you in no time! There's no reason to worry about what might be wrong when you have us!
Quality Filter Replacement
Your HVAC filter is something that will need to be replaced from time to time to ensure you have clean air. When doing something like this it is very important to have it done correctly or you may just be allowing more pollutants in your air. Allowing our team of experts to take care of this for you can give you a sense of assurance knowing it was done right!
Contact Us Today
When it comes to taking care of all of your HVAC unit cleaning needs, let Air Duct Cleaning Dublin help you! Having better air and a smoother running unit are closer than you think! Contact our team today and together we can find the perfect time to serve you!